CAC Bank raises its capital to YER20 billion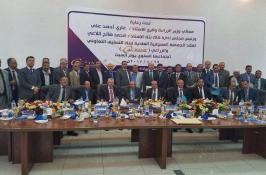 7/29/2017 12:00:00 AM
The General Assembly of the Cooperative and Agricultural Credit Bank approved the consolidated financial statements of the Bank for the fiscal year ended 31/12/2016. During the meeting that was held at the bank's headquarters in Sana'a, the members discussed the topics under the agenda of the General Assembly regular meeting, where the Chairman delivered a speech in this regard. Also the members heard to the reports on the consolidated financial statements for the year ended 2016; the report of shari'a supervisory board for the Islamic branch; the report of the central bank; the report of the central organization for control and accounting and the auditors' report.
At the meeting, the reports were verified and approved after discussing them thoroughly. After the approval of the bank's profits for the year 2016, which amounted to YER 2,173,400,000, the meeting came out with a number of important decisions, namely the approval of raising the capital of the bank to YER 20 billion.
On this occasion, the General Assembly of the Bank expressed its thanks and appreciation to the Chairman and Executive Management for their efforts to reach to this great results specially during the current circumstances of the country.
The General Assembly also recommended taking into consideration the observations contained in the reports submitted by the regulation authorities of the central auditing organization and the central bank of Yemen.
Our news